Beach Wedding Venue Devon
Arches is a one-of-a-kind, ceremony-only, DIY beach wedding venue in the pretty Devon village of Combe Martin
---
Think of Arches as your own personal register office where you can celebrate your wedding however you like.
There are two options: The full wedding option, where you book the ceremony space for the entire afternoon AND also get to enjoy the gorgeous bridal room upstairs overnight as part of your booking.
OR you can choose the elopement option and book the ceremony space only for a two-hour slot from 9am to 11am, Monday to Saturday.
Get married at one of the most stunning wedding locations Devon has to offer.
A small but perfect beach wedding venue
---
With a total capacity of 120, the ceremony space at Arches beach wedding venue is fronted by large doors giving you stunning views across the sea. Imagine getting married here with the incredible Devon seascape as your backdrop. Or why not exchange vows in front of the spectacular flowers wall, which runs down one side of the venue.
At 7m x 10m, plus a small powder room and loo to the side, the Arches ceremony space comfortably accommodates 100 people sitting and 20 standing, but also feels intimate and romantic if there are just a handful of guests.
Paid for parking is available next door. Or you and your guests can park for free in our private car park in the centre of Combe Martin with the full wedding option.
How will you celebrate?
---
After your Arches wedding, why not enjoy a celebratory glass or two in our adjacent private garden or on the balcony overlooking the sea. Then head down to the beach for a fish and chip supper and watch the sun go down. Or why not hire the village hall, hang some bunting, drink Pimm's and have a party.
Or maybe order picnic hampers, throw some blankets on the sand and enjoy an afternoon tea with fizz. Or just head to the nearest pub. There are plenty to choose from in Combe Martin and the surrounding areas.
Browse the directory below for places to stay and places to party.
Check availability and prices
---
Arches beach wedding venue is available all year round, Monday to Sunday.
You can book the ceremony space from midday to 6pm and enjoy the bridal suite, which is included in the price, from midday the same day to 10.30am the following morning.
Prices start from £1495 for midweek winter bookings to £3995 for weekend summer bookings. (See details)
Or you can book the ceremony space only for a two-hour slot from 9am to 11am, Monday to Saturday, for a small, elopement-style wedding.
Price is £1000.
Live in North Devon? Enjoy a 25% discount. (Get in touch for details.)
Useful information for the day
---
Perhaps you want to get married when the sea is out, and you can see the beach. Or maybe you want an intimate wedding ceremony as the sun goes down. See below for tide and sunset times.
Tide times
Sea in or sea out? Check the tide times to see when's the best time to get married
Sunset times
Want an evening ceremony or sunset wedding? Get in touch to make a special arrangement
Local registrar
Remember to book the local registrar for your ceremony if you want to be legally married
Venue Images
---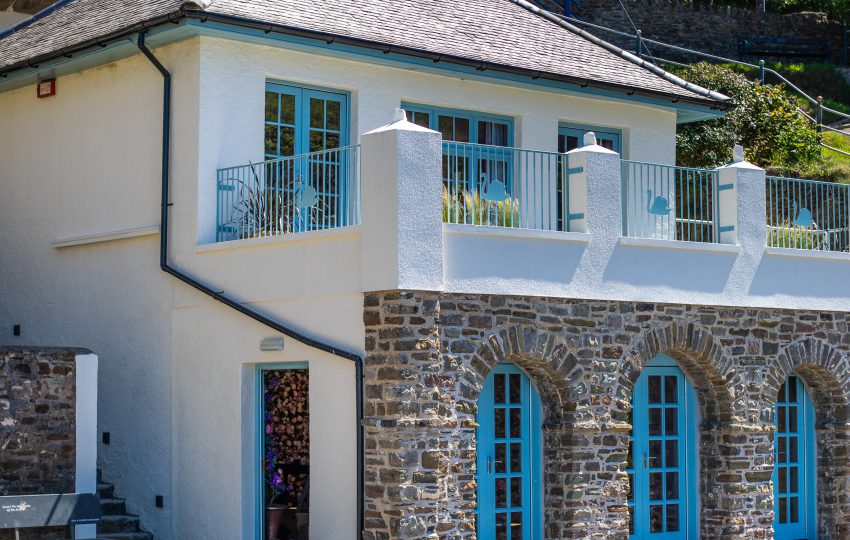 What's included in the full wedding option at Arches beach wedding venue?
---
Exclusive use of the ceremony space from midday to 6pm
Exclusive use of the bridal suite from midday the same day to 10.30am the next day
Free use of our private car park in the centre of Combe Martin
  It's easy to book a wedding in one of the most stunning wedding locations that Devon – or even the UK – has to offer. Have any questions? Give Simon Daukes a call 07785 386 622