Journal
How to Plan a Wedding Without Reception
If you fancy the 'anti wedding' movement and the thought of having a traditional wedding doesn't fill you with glee, you may be tempted to opt for a wedding without a reception.
There are positive implications to having an anti wedding wedding – from being able to use a non traditional wedding wear to having a unique wedding while saving a lot of money.
Opting for places that hold civil ceremony licences, such as Arches, you can keep the money you would otherwise be spending on a traditional wedding day, put them towards a honeymoon, property purchase or an overseas celebration at a later date. So it's a win win!
But even if you and your partner are opting for a completely 'no reception wedding' it's worth thinking about having some kind of celebration with your nearest and dearest. Below you'll find some quirky celebrations ideas for intimate weddings to choose from.
Having the Ceremony at Arches Beach Weddings
With most register office wedding ceremonies, you get just half an hour for the ceremony before the next couple arrives. Arches is different. Unlike other wedding venues, you get nearly two hours to host your wedding, so there's plenty of time to exchange your vows and then enjoy some celebratory bottles of fizz and wedding cake cutting in the garden. There's also time for a few toasts and thank yous too.
No wonder Arches is one of the most popular venues for a beach wedding in Devon! Visit in person or take the virtual tour to see it for yourself!
At this point, you may want to say cheerio to your wedding guests, head on home and go without a celebratory reception altogether. But if you want to spend a bit more time with close friends while avoiding the traditional wedding reception route, there are plenty of other options for you. Below there are wonderful few ideas to choose from and plan a great wedding celebration without creating a big fuss.
Alternative Wedding Reception Ideas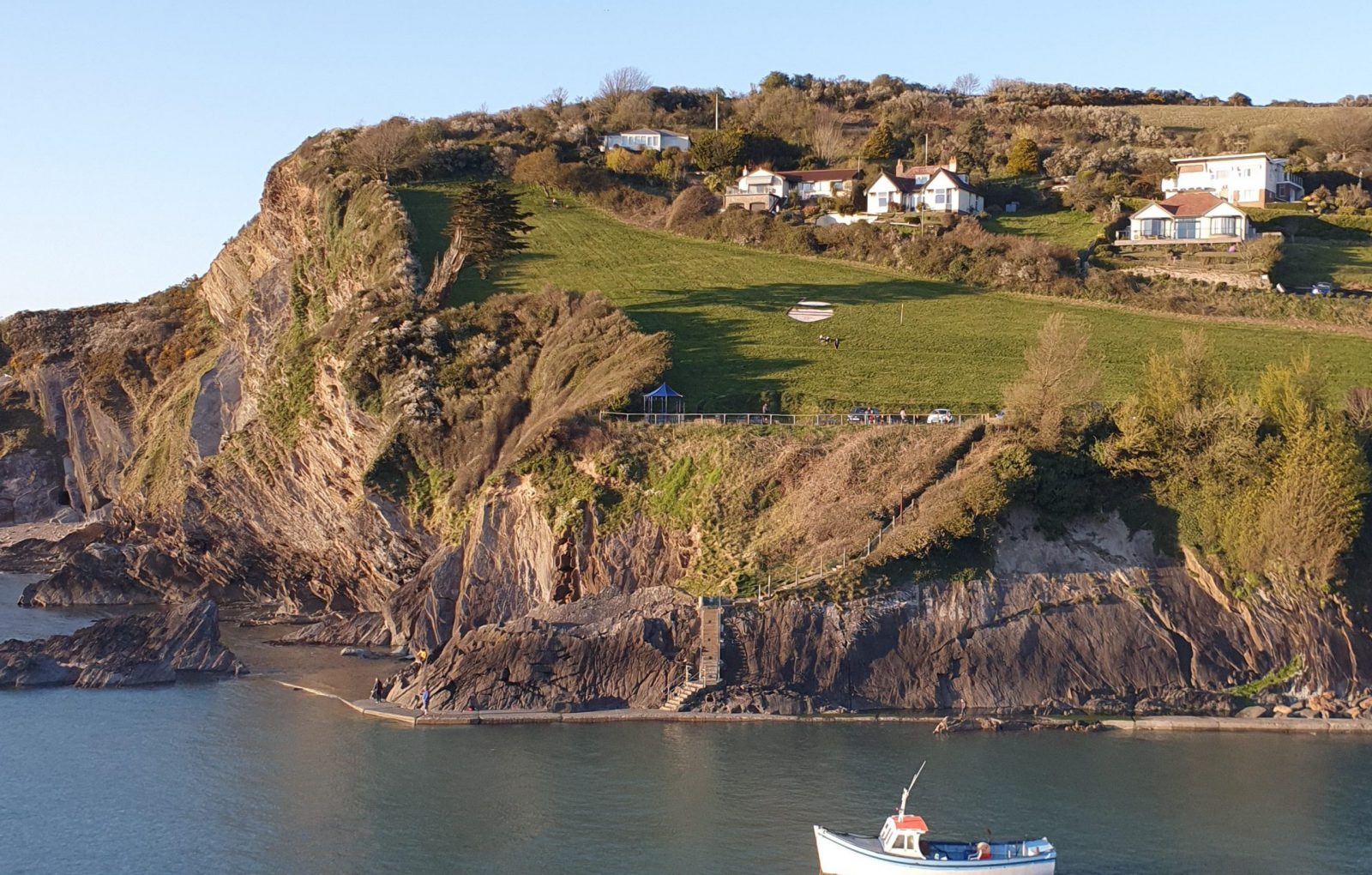 Have a picnic on the beach
Straight after your Arches wedding ceremony, head down to the beach with your wedding party, throw some colourful blankets down on the ground and tuck into a Devon cream tea hamper with clotted cream, jam, homemade scones and Pimm's or Prosecco. Remember to include plates, napkins and cutlery to match the colour theme of your wedding.
Another great idea is to sit on the beach and enjoy freshly fried fish and chips from one of Combe Martin's chip shops. Just remember to order in advance. And if the sea's not too far out, hitch up your wedding gown and go and have a paddle too. That's always fun and good theme for a fun photo shooting session.
Book a lunch or dinner at a local restaurant
If you want a wedding without a reception and your wedding has just a few guests, celebrate your nuptials with lunch or dinner at a local restaurant. It might be a restaurant that has special meaning, such as the place where you went on your first date or your favourite dishes.
Or choose a restaurant that serves your a different style of cuisine such as Italian, Spanish or a specially designed menu and accompanying wines. You could even opt for a taster menu, and if you're able to book a private room for your celebration, so much the better. Restaurant parties are the perfect wedding reception alternative.
Enjoy an informal wedding reception BBQ
If you're local, invite you wedding party and family and friends back to yours for a laid-back BBQ in your garden. Backyard parties are great if you're not having a traditional wedding. Just decorate your garden with festoon lighting, paper lanterns or homemade decorations such as photo bunting, and put together a Spotify playlist of chilled summer tunes. Set up barrel full of ice for beer, wine and champagne, and a table with salads and dips. And appoint one of your wedding party to be in charge of the barbecuing, so you and your partner are free to mingle and chat to your guests. It's a chilled, low key reception and a relaxed and memorable way to celebrate your wedding day.
Hire a food truck
If you don't want to BBQ, opt for a more festival-style vibe for your 'no reception wedding' by putting a marquee in the back garden, hanging up bunting and hiring a food truck. Your food truck can come right up to your venue and serve anything from crepes and Devon ice cream to halloumi burgers and bao buns, to pulled pork and pizza slices.
Host a wedding reception brunch
If you're having an early morning wedding ceremony at Arches, and you don't want a traditional wedding or a typical wedding reception, go out for brunch afterwards at a local hotel or restaurant. Everyone loves a buffet breakfast of smoked salmon and eggs served with a mimosa or two. Or if you want to have a bit of fun, go old school and have your wedding brunch at a local caff, and serve up a full English, bacon butties with sauce, or fried egg sarnies.
Have tea and cake in the village hall
Keeping with the old school theme. Why not have afternoon tea in the Combe Martin village hall, if you're after a wedding without a reception. Decorate the venue with pretty bunting and serve up crustless sandwiches and Earl Grey cocktails in mismatched teacups. Set up a dessert bar too and let everyone help themselves. Macarons, apple tarts, cupcakes, mini iced doughnuts, chocolate cake and Devon scones all down well. Remember to create a Spotify playlist to play in the background as your guests mingle and chat.
Throw a cocktail party evening reception
If you're having an evening wedding ceremony at Arches wedding venue, follow it up with a wedding reception cocktail party at a nearby iconic wedding venue like a historic house or even art gallery. These are an elegant wedding reception venue alternative and a beautiful way to celebrate the occasion. Ask the venue to create a couple of signature cocktails for you and your partner, and name them after the married couple, or name them after your favourite holiday location or film. For food, have staff serve bite-sized hors d'oeuvres. And have a few food stations too serving oysters or a range of local cheeses and let guests help themselves.
Have an outdoor movie night
And now for something completely different that's fun and quirky and a great post wedding celebration. String up fairy lights, hire a projector and screen, throw a bunch of bean bags around the garden, and celebrate your wedding with an outdoor movie night. For a night to remember, serve up plenty of hot dogs, nachos, pizza and popcorn and watch some wedding film classics with your guests. Father of the Bride, The Wedding Planner, The Proposal and Bridesmaids are our favourite wedding themed blockbusters.
Arches Beach Weddings Ceremony Only Venue
Remember that Arches Beach Weddings is sunny beach destination so whatever you choose to do after your ceremony to celebrate your big day, it would be magical! Read our blog entry on finding the perfect micro wedding venue for more recommendations. You can also have a look at our recommended wedding services suppliers directory and post ceremony venues, where you have plenty of options to choose from to organise your wedding party your way.