Journal
How to choose an intimate wedding venue
If you've decided against a big old church wedding with hundreds of guests, chances are you're looking for small wedding ceremony venues to celebrate your nuptials in front of your loved ones.
So what should you think about when it comes to choosing a venue for an intimate wedding?
How many guests are coming to the wedding?
You want a venue that can comfortably accommodate all the people on your guest list. Arches is licensed for 120 people (with 100 chairs available) so there's plenty of room for all your friends and family.
But what's unique about Arches as a wedding space is that it works equally well with 50 guests or even 15 guests. In fact, just a handful of wedding guests ensure the occasion is incredibly atmospheric, romantic and intimate. And that's especially true if you choose to get married in front of the flower wall or with the crashing ocean waves as your backdrop.
Where is the wedding reception being held?
Perhaps you're having your wedding ceremony and then going straight home. But if you want some kind of local wedding breakfast or post nuptials celebration, it's worth choosing a wedding reception venue that's not too far away.
As Arches is located in Combe Martin, it's close to numerous places to have your wedding celebrations including pubs, restaurants and even tea shops. Hire a private dining room for your reception and invite your closest friends and family. Or why not celebrate at the local golf club, yacht club or even hire local function rooms or the Combe Martin town hall.
As Arches is right next to the beach it is the perfect destination for a small beach wedding, if this is what you have always dreamt. Make the most of this incredible setting and treat your guests to a fabulous wedding picnic with hampers, champers and colourful blankets. Remember to check the tide times to ensure the sea is out. Or buy fish and chips and ice creams for everyone and sit by the harbour to watch the sun go down.
Where will the wedding photos be taken?
Whatever the size of your wedding ceremony, your photographs will be an integral part of your day. Unlike a local authority register office which can feel a little beige and utilitarian, Arches is a licenced wedding venue that's beautiful as well as unusual. And that means your wedding photos will be stunning too.
The Instagramable flower wall is always a popular choice when it comes to wedding pictures. Or you can stand in front of the arches with the ocean behind you for your photographs. What a view! Or why not venture down to the beach. There's something really romantic about running bare foot across the sand clutching the petticoats of your wedding dress. But if bare foot isn't quite your thing, opt for something a little quirkier and pull on your wellies or DMs.
Can we get married at any time?
If you're opting for an intimate wedding, what could be more romantic than a wedding at dusk on a warm summer's evening? Or perhaps you'd prefer something a little more dramatic. In which case opt for a midday midwinter wedding when the ocean is whipping up and the sky is stormy.
Arches is available from dawn to dusk throughout the year, Monday to Sunday, so you have plenty of options when it comes to booking your small wedding. Remember to check the availability of the wedding registrar too. You'll need to book one to get married at Arches.
Is there enough time to have the ceremony we want?
Whatever the size of your wedding, you don't want to feel like you're being rushed. Even if you opt for a small wedding venue, you still want to take your time when it comes to saying your vows and enjoying the moment.
Unlike a traditional register office ceremony which can often be over in as little as 20 minutes, Arches differs from other wedding spaces in that you can book a two hour window. This means there's plenty of time for you to say your vows, exchange a few personal words, play a piece of music that is significant to the both of you or have a reading or a poem read by one or two of your guests.
Is there space to mingle with my wedding guests?
The two hour window also gives you time to chat to your guests after the wedding and open a few celebratory bottles of fizz for a small drinks reception.
Of course, you can mingle inside if the weather's on the nippy side. But if it's a glorious day, head out to the small and pretty Arches garden.
It's the perfect setting for drinks, photographs and a celebration.
Is there the flexibility to do what we want?
Arches is a DIY boutique wedding venue so you can have your ceremony however you like. Some couples get married in front of the flower wall. Others get married in front of the arches with their ocean as a backdrop. Feel free to arrange the chairs however you like and decorate the venue with flowers, bunting, balloons or fairy lights. The choice is yours. Just remember to take any decorations with you when your wedding ceremony is over.
What are the facilities like?
Arches is a beautiful and intimate wedding venue that has everything you need for your big day. As well as the main area of the venue, there's also a small dressing room and loo to the side. So it's perfect for those last minute preparations every bride needs. The venue is heated and there are plenty of electric sockets throughout. There's free Wi-Fi available too and a Sonos system. Download the Sonos app on to your phone before you arrive and play any music you want through our system.
And is there parking?
There's a public car park next door close to Arches which is big enough to accommodate any guests driving to the ceremony. And it's only a couple of pounds to park too.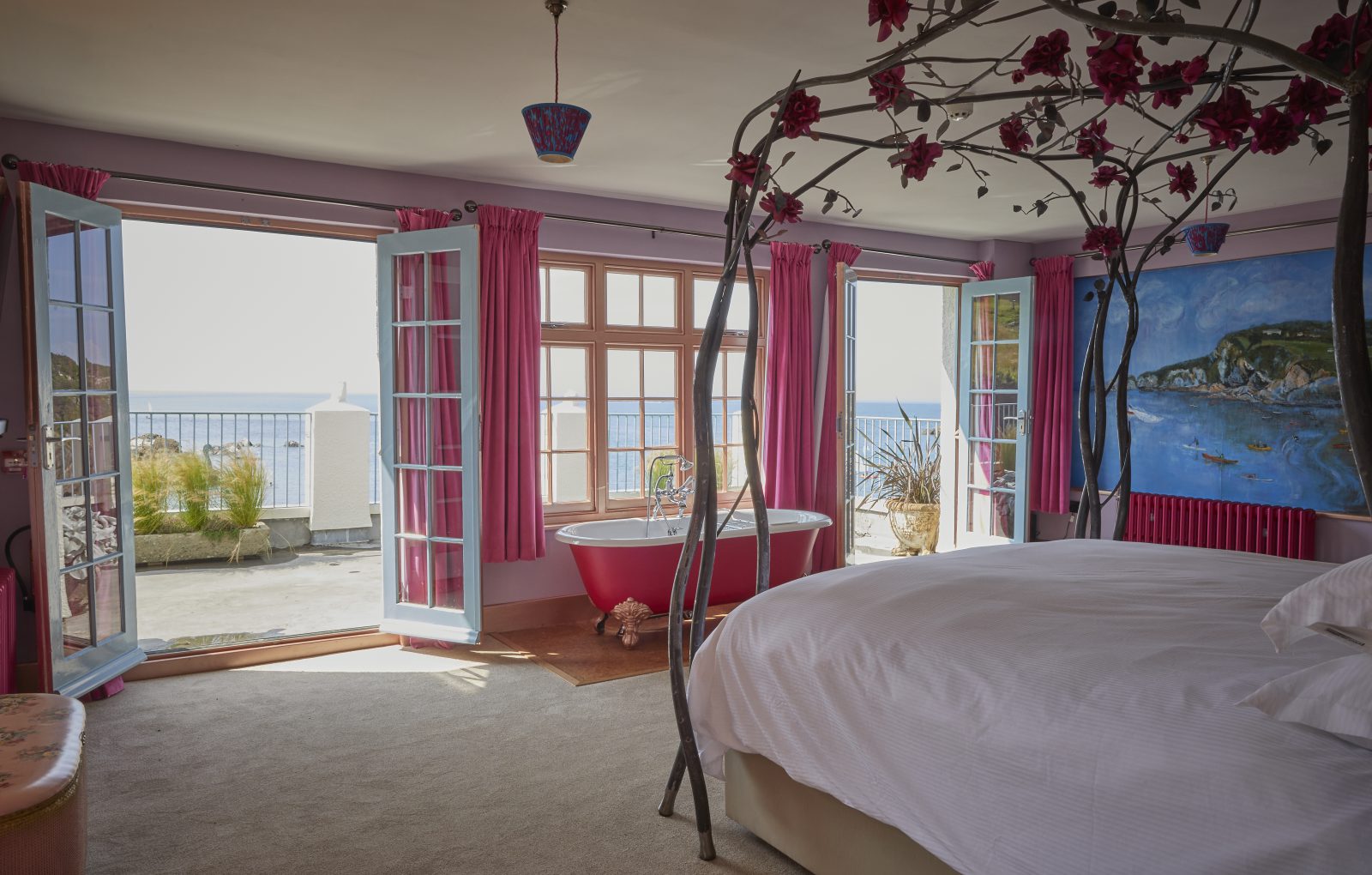 Can we stay overnight?
Above Arches is a beautiful bridal suite with a super comfy king-sized bed, a claw foot bath, shower, and loo, as well as a small kitchen area. The Arches bridal suite has its own entrance and can be booked separately from the venue. Stay overnight from 3pm–11am and enjoy waking up to the sounds of the sea – one of the best experiences.